Protein Banana Bread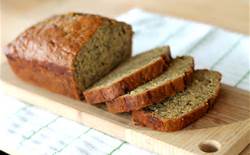 1 1/2 cups Flour
4 scoops Lean Protein Banana or Vanilla
Stevia (to taste)
1/2 tsp Baking Soda
1 tsp Baking Powder
1/4 tsp Salt
3 medium ripe Bananas
1/2 cup un-sweetened Applesauce
2 tbsp Plain 0% Fat Yogurt
4 Egg Whites
1 tbsp Vanilla Extract
Cooking Spray
Preheat oven to 350.
In a blender combine bananas, applesauce, yogurt, egg whites and vanilla.
In a large mixing bowl combine flour, baking soda, baking powder, salt, stevia and Lean Protein. Mix well.
Add wet ingredients and mix well, but quickly!
Spray an 8″ x 4″ loaf pan and dust with flour. Add bread dough.
Bake for 40-60 minutes (varies depending on the oven). Stick a toothpick into the center of the loaf to ensure it's baked thoroughly. Allow to cool on a wire rack.