Ginger Salmon
Ginger and salmon blend together perfectly. You'll enjoy the flavor almost as much as you will the health benefits!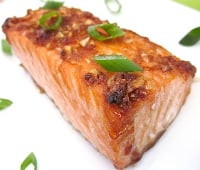 1 tsp Freshly Ground Ginger
1 tsp minced Garlic
1/3 cup Reduced Sodium Soy Sauce
1/4 cup Orange Juice
Stevia, to desired sweetness
1/2 sliced Onion
Three, 3.5 oz Salmon Filets
Orange Rind
Combine ginger, garlic, soy sauce, orange juice, and Stevia in a bag.
Add the salmon and onions to the bag and let sit a few hours to marinate, flipping the bag after 1.5 hours.
Cook salmon on grill until it flakes easily with a fork.
While cooking, brush salmon with any excess marinade.
When done, sprinkle with orange rind and serve.
Nutrition Facts Serving Size 3 Servings
Amount per serving
Calories 159
Total Fat5g
Total Carb5.2g
Protein21.5g