Spicy Chicken Rub
Dry rubs are low-calorie, low-carbohydrate seasonings that are simple yet flavourful and can add a real boost to bland diets.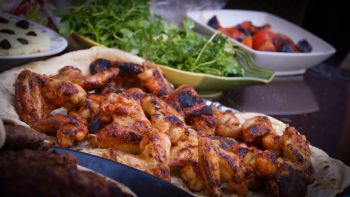 With origins in Jamaica, a Jerk spice rub traditionally starts with allspice combined with some sort of heat. The preparation we're most familiar with is of course Jerk Chicken, however, it can be applied to almost any meat including fish, shrimp, beef, sausage, lamb, and tofu.
This rub can be made ahead of time and stored in an air-tight container for up to one month in the refrigerator.
Ingredients
6 tbsp Garlic Powder
6 tbsp Onion, finely diced
6 tbsp Onion powder
2 tbsp ground Allspice
1 tbsp dried ground Chipotle or ground Chilli Peppers
2 tbsp Hungarian Paprika or Smoked Paprika
1 pkg Sweet Leaf Stevia powder (optional)
2 tbsp dried Thyme
2 tbsp Cinnamon
2 tbsp Nutmeg
2 Scotch Bonnet or Habanero peppers, with seeds chopped
Zest of 2 lemons
Preparation
Mix all ingredients together. Cover and store. Simply rub or brush onto the meat and let sit for a minimum of 20 minutes before grilling.